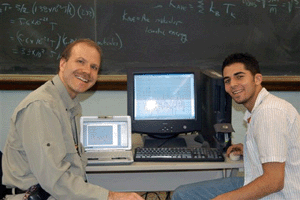 QuarkNet Research Leads to Intel-ISEF
Joshua David Seidman from Wellington Mepham High School in Belmore, Long Island NY, built an electric field monitor to monitor the strength of terrestrial electric field. This device together with the MARIACHI scintillator cosmic ray air shower detector and prototype radar were used to search for coincidences between lightning and cosmic rays. The electric field monitor establishes how charged a storm cell is.
Data used in the analysis were collected during two storms. Josh carried out data analysis at the High School under the supervision of his physics teacher, Mr. William Leacock. A scintillator shower detector is now being installed at the HS and will be part of the MARIACHI experiment. In the near future we expect that analysis such as performed in this work will be greatly facilitated by the use of the Cyberinfrastructure.
Brookhaven/Story Brook Center