Fermilab - University of Chicago
QuarkNet Center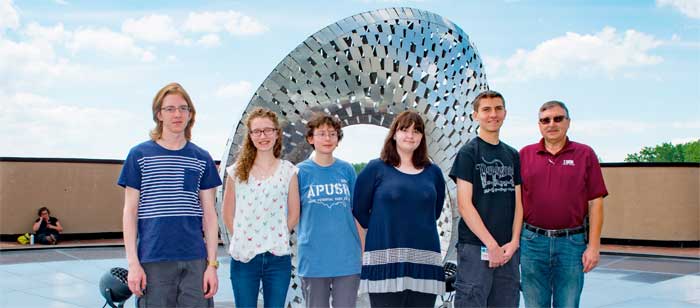 The Fermilab/University of Chicago QuarkNet group has high school teachers from the Chicago suburbs. We meet twice in the summer, and a few times during the school year, to discuss how to effectively integrate research experiences into classroom activities. During the summer, we host teams of high school students and teachers. These teams work on research projects with scientists at Fermilab. Read more about the QuarkNet program.
High school students interested in joining the QuarkNet Summer Research Program can read this program summary and learn how to apply.
QuarkNet Center Events
| | |
| --- | --- |
| Summer 2018 | QuarkNet Summer Research for High School Students Program |
Previous Activities/Materials
Years are from Jan. to Dec. (e.g., 2016 refers to Jan-Dec. 2016)
Masterclasses
| | | |
| --- | --- | --- |
| | | In the U.S. Masterclass students come to one of 25 nearby universities or research centers for one day to visually analyze real data from experiments at the Large Hadron Collider at CERN.During a three-hour masterclass preparation, students engage in investigations that address how physicists use indirect evidence to explore phenomena, the Standard Model as the current theoretical framework for our understanding of matter and physics concepts that govern how particles behave. Our research and evaluation show that prior knowledge of these topics enables students to have a more gratifying, interesting, and authentic research experience. Masterclass 2016. |
Teacher's Guide - Download our collection of education materials including a variety of worksheets, activities, labs and lesson plans as well as modern physics units. The beta version was tested in author's classrooms.