| | | |
| --- | --- | --- |
| | QuarkNetter Report: The Penn Detector | |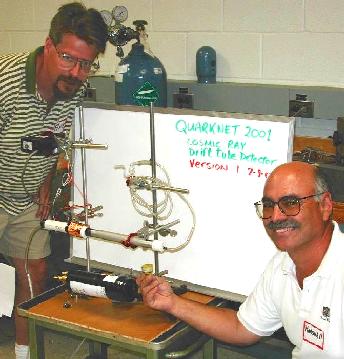 Mentors and lead teachers at the University of Pennsylvania QuarkNet Center developed a classroom detector modeled after the "straws" in the Inner Tracker of the ATLAS detector, one of the two detectors for the Large Hadron Collider at CERN. The Penn ATLAS group works on electronics for the inner tracker, so naturally they designed similar electronics for this cosmic ray detector. The straws are long, thin drift tubes, gas-filled cylindrical devices with a central wire held at high voltage. When a charged particle (such as a muon) passes through a cylinder, it ionizes atoms in the gas which are attracted to the wire. These energetic ions collide with other atoms in the gas, ionizing them as well. As a result, a cascade of ions strikes the wire, causing a sizable signal for the electronics to read.



Lead teachers Marshall Mosesson and Frank Lipinkski successfully built and operated the Penn detector. Also, teachers in the Penn QuarkNet Associate Teacher Institute built these detectors with great success. Most of the parts are "off the shelf" from commercial suppliers, and the cost, at around $200, is better than reasonable. The Penn center is considering making their detector available as a kit. Watch this space or contact the folks below to find out if and when the kit becomes available.

If you'd like to make one of these right now, orient yourself with the slide show below and then contact the Penn group for details.

There are drawbacks.

Muon lifetime expriments are not possible with this detector.
This detector requries a gas supply for efficient operation.
Each tube has a fairly small active area.
RATINGS

| | | | | |
| --- | --- | --- | --- | --- |
| | | | | |
| Excellent | Good | Acceptable | Marginal | Yuk |

| | |
| --- | --- |
| COST | |
| EASE of ASSEMBLY | |
| EASE of USE | |
| PORTABILITY | |
| VERSATILITY | |
| RELIABILITY | |
| GEE-WHIZ FACTOR | |




RESOURCES AND CONTACTS

Overview of the Penn detector, including views, account of assembly, and uses: Slide Show

About the ATLAS Detector, the inner tracker of which is the inspiration for the Penn design: The ATLAS Experiment

Contacts:
Frank Lipinski, Penn QuarkNet lead teacher
Marshall Mosesson, Penn QuarkNet lead teacher
Rick van Berg, Penn QuarkNet mentor

---
Web Maintainer: qnet-webmaster@fnal.gov
Last Update: March 22, 2002