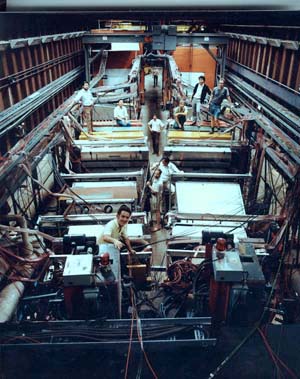 The Upsilon Detector used to discover the bottom quark

Batavia, IL It is 1977. The Standard Model is not yet fully formed. The existence of protons and neutrons can be explained with a simple two-quark model consisting of the up quark and the down quark. (The proton is made of two up quarks and one down quark, while the neutron is made of one up quark and two downs.) More evidence has come in, though, of particles, called mesons, that were made up of quark-antiquark pairs, including two new quarks: the charm and the strange. The charm has recently been discovered as a constituent of the J/psi meson.

Leon Lederman of Columbia University leads a team at Fermilab on a detector designed to find a new meson: the upsilon. The upsilon is found at Fermilab to have the astounding mass of 9.5 GeV—that is 10 times the mass of the proton.

The way the upsilon was discovered is interesting. This meson has a very short lifetime and is therefore hard to detect. So what Dr. Lederman and his colleagues did was to fire a beam of protons at a target. Various kinds of mesons were produced and decayed. The upsilon, in fact, decayed into a pair of muons. These muons could be detected and tracked. Use of the tracking information told the energies and momenta of the muons—which could then be traced back to find the new upsilon particle and its mass.